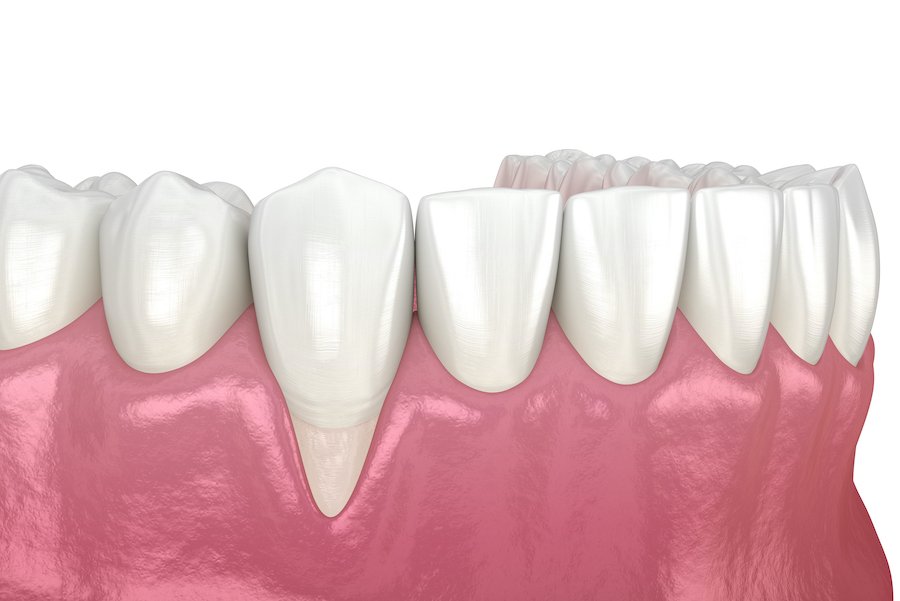 Gum recession is a serious dental issue that should not be ignored. As the name indicates, gum recession is a condition where your gums begin receding, or pulling away from your teeth. This change in your gumline exposes the sensitive roots of your teeth to pressure and bacteria. Besides visible changes to their gumline, many patients dealing with gum recession will report heightened tooth sensitivity to both temperature and pressure.
Causes of Gum Recession
Periodontal disease, or gum disease, is characterized by inflammation and infection of the gum tissue and is one of the most common causes of gum recession. Other symptoms of periodontal disease include bleeding gums, persistent bad breath, and loose teeth.
Poor oral hygiene can also lead to gum recession since plaque and tartar are left to build up along the gum line. Be sure to brush twice a day for two minutes each time, floss every day, and get routine dental cleanings every six months to help prevent gum recession.
Aggressive brushing can cause gum recession. Don't brush with excessive force or use a hard-bristled toothbrush, which can wear down your gum tissue and erode your tooth enamel.
Genetics, hormones, and tobacco use can also contribute to gum recession and make a patient more vulnerable to developing dental disease.
Periodontal Care in Frisco, TX
If you've noticed any abnormal changes in your gums or signs of gum recession, contact us today to schedule an appointment at Serenity Dental Studio! Swift intervention can allow us to improve your gum health, repair your gumline, and prevent further damage. We will measure your gum pockets and take X-rays to determine the best course of action. If a deep cleaning is necessary, our qualified team will talk you through the process and make sure you're as comfortable as possible.