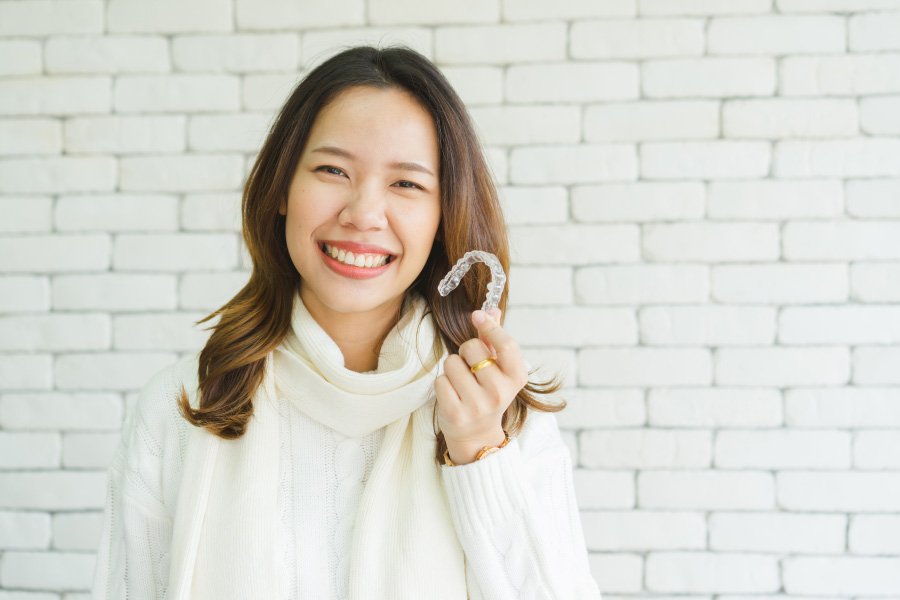 Are you dreaming of a straighter smile but you don't want to get clunky metal braces? Invisalign clear aligner therapy is designed to help improve the look and function of your smile in a subtle, effective way. We're proud to offer Invisalign clear aligner therapy as an orthodontic option for our patients at Serenity Dental Studio!
What Is Invisalign?
Invisalign uses clear, removable aligner trays that incrementally shift your teeth into proper alignment over time. After your initial consultation, we will create computer-generated aligners to help you achieve your unique smile goals. Every two weeks, you will receive a new set of aligners and check in with our team to ensure that your teeth are shifting as desired and on schedule.
How Does Invisalign Work?
Invisalign aligners slip discreetly over your teeth. You should wear your aligners for at least 20-22 hours a day, removing them only to eat and brush and floss your teeth. To keep them clean, you should brush your aligners every day with a soft toothbrush and dish soap, and regularly soak them in a denture cleaner, Invisalign crystals, or retainer cleaner. Due to the amount of upkeep and possibility of losing or damaging the aligners, we recommend Invisalign for responsible older teen and adult patients.
What Can Invisalign Correct?
Invisalign is great for fixing mild to moderate issues with alignment, spacing, and crowding. For more advanced orthodontic issues, it might be best to opt for traditional metal braces.
How Long Does Invisalign Treatment Take?
How long your treatment lasts depends on your individual situation and how closely you follow your care plan, but Invisalign treatments typically last between 6 and 24 months.
Is Invisalign Expensive?
Invisalign is an affordable treatment — and at Serenity Dental Studio, we make every effort to make your treatment even accessible with our in-house membership club and custom payment plans. We'll work with you to figure out how best to make your treatment fit within your budget.
Affordable Invisalign Treatment in Frisco, TX
If you're looking for a discreet and affordable way to straighten your smile, consider Invisalign clear aligner therapy! Dr. Kengskool is Invisalign certified and would love to care for your smile. Contact us to schedule a consultation today.